Free Webhosting Services v/s Paid Webhosting Services!!
Free Webhosting Services v/s Paid Webhosting Services!!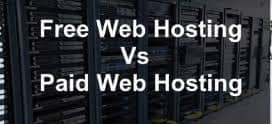 For a startup, the ratio of free web hosting over paid web hosting is more. As it reduces the ongoing cost related to professional websites. Free website hosting is a non-paid service. There are many webhost companies who provide the sub-domain to anyone under there domain.These non-paid websites include WordPress and blogger.
Ex: abc.Wordpress.com (Say 'abc' is your site name).Whereas, In paid Webhosting services, if you want to get a website with a domain name without external site's name, buying a domain is the finest option.
Let's decide what is worth to opt for? Free Webhosting services or Paid Webhosting services?
Advertisements on your websites: In Paid Webhosting, you have control over your sites. You decide what ad, banners should be displayed so that outsiders can see.While, in free webhosting services pop-ups, banners display n your sites, and only if you have partial control on your sites, you can only decide the banner size.
Isolated: In Free webhosting platforms, they provide a domain address including company's name, which results in a negative impact on the customer.
While considering, paid webhosting services they have there own domain name, which creates a unique impact for there business.
Reliability: Paid webhosting services guarantee 99% uptime, the major need for any business.Unlike, free webhosting services which do not offer the same uptime.
Ranking: Due to irrelevant ads, and also the unprofessional links present in the websites leads to the lower ranking. But, when you have professional websites, it results in higher ranking.
Support: Free webhosting services do not provide the immediate response to the query. i.e No value-added services in free webhosting services.
With paid hosting services 24/7 technical support is provided via phone, emails and chats.
Bandwidth: Low is the bandwidth and the data transfer rate in free webhosting services whereas paid webhosting services gives the optimum bandwidth and data transfer for maximum uptime.
Free Web Hosting Doesn't Last Forever. The paid webhosting offers are better in many ways, you have full control over your websites.
However, paying a little more is beneficial than the limitation provided for hosting services.So why not go for paid webhosting services!!