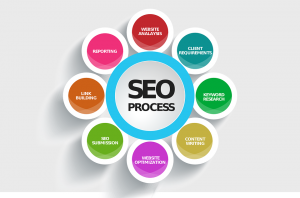 The procedure of optimizing your online content, so that search engines shows your site as top results where for certain keywords is Search Engine Optimization
In general, the frequent or higher ranked website shown when searched.
SEO is a key, where you have to work on your articles so that Google include your feature as on top result if someone searches for that keyword. SEO targets many different kinds of search such as image search, videos search, industry search, news search.
Two different kinds of SEO : 
>> White hat SEO
>> Black Hat SEO
To earn money fast, a quick rich scheme is black hat SEO where SEO focuses on optimizing your content only for a search engine, without considering humans at all.
Though it has a disadvantage too, this approach is full of spam which gets easily banned very fast by breaking the rules, there is no chance of sustainable business in future.
Whereas, White hat SEO is a way to build a sustainable business as now and in future too. SEO mainly focuses on the human audience. It helps in displaying the best content and also which is easily accessible to the audience, by doing according to the search engines' rules.
Duplicate content is present in black hat SEO, on the other hand, Relevant contents, links, well labelled-images are the gaining points of White hat SEO.
More broad categories of SEO are off-page SEO and on-page SEO :
Both are equally important to the success of SEO but are completely different from each other
On-page – It is also called an "On-site" SEO, the act of optimizing different parts of your websites that may affect your search engine ranking.
Here, you can make changes in your own websites. The factors include Title Tags, Page Contents, Internal Links and many more.
In simple terms, On-page SEO ensures that your site can be read by customers as well as by robots. With good "On-Site" SEO, search engines can easily understand your content, what is your site about?
Thus, how ranking is done.
Off-page – The more links your website has, the higher is the ranking of your websites.
The biggest off-page SEO factor is number and quality of backlinks is done on your websites
Which one is more important?
On-page and Off-page SEO both works together to improve your search engine ranking. But anyhow, you have to first focus on your contents, make it strong so that search engines websites can easily
navigate and then you may come back to maintain links to your websites. That's how ranking is done.