Ubuntu- The prime Operating system!
Ubuntu- The prime Operating system!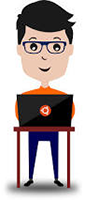 Ubuntu a free open source operating system and Linux distribution based on Debian. In simple ways, Ubuntu is a free operating system you can install on a computer. It is suggested in three editions: Ubuntu Desktop, Ubuntu Servers, and Ubuntu Core. Ubuntu Desktop for deploying personal work, Ubuntu Servers for Servers and Cloud and Ubuntu Core for the Internet of things.
Ubuntu isn't just for personal computers. there are many more versions of Ubuntu, from turning a computer into a network server. For turning out, you just need to purchase a CD for faster speed of the process and burn it after downloading the OS.
Ubuntu for IOT:
From industry to homes, robots have been playing a major roles in day to day life, for making life more simpler and easier. With more and, more companies are investing in the market for smart technologies. Ubuntu has their hands in IoT. Ubuntu Core a tiny version of Ubuntu for IoT devices with super-security upgradable packages known as the snap. For Internet of things, it provides robust security, app stores and trustworthy updates. By making things simpler with easy development, free security updates and reliable for devices.
Advantages Of Ubuntu:
1. Ubuntu is free of charge.
2. Ubuntu has a list of installed software and updates everything at once and rebooting your computer is barely needed.

3. Ubuntu Advance Package Tool (APT) makes easy to install, uninstall and keep the software up-to-date. APT doesn't force for upgrades like Windows.
4. Ubuntu has alternative likes Xubuntu and Lubuntu what works faster and leaner which brings life to the old computer by providing the same software library like Ubuntu provides.
5. No Malware, no crapware, on the web browser that you cannot get rid of, no virus, no worm, no system slowdown.
Ubuntu for Commercial Purpose:
1. Ubuntu has a familiar GUI environment to the Linux desktop experience, which makes users experience easy and straight for tasks.
2. Security updates are freely available to all the users of Ubuntu with no contribution required.
3. Being an open-source platform, you can pick and choose the packages of your choice which make sense for your firm.
4. Ubuntu makes a new release every six months, which includes all the full support for the software and hardware applications, with free security updates of the specific month.
5. Ubuntu platform has a 24/7 commercial support. A very large community of developers who are ready to solve issues online with free of cost
 Ubuntu- An open-source customizable platform where you can easily make change according to your need.