What are the Benefits Of SEO?
What are the Benefits Of SEO?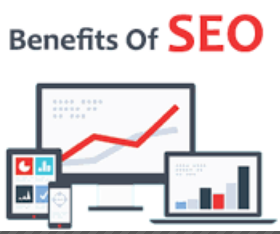 SEO Benefits : 
Bring More

Customers:

SEO helps small business to run faster, smoother and makes a website

user-friendly

. 

A business

that has SEO optimized websites brings MORE customers and helps to grow business as twice as fast.

Increased

Traffic:

SEO focuses on creating the unique keywords, title tags and meta

description which

shows up in the result pages. It helps to increase the

click-through

rate which promotes the increase in

traffic

,

which helps in a majority of impression and clicks help in ranking this website up.

Brand

Awareness:

Being on top position on result page provided a significant impression.The website on the first page seems to be most trustworthy by the potential customers. 

That is why small businesses that want to build better brand awareness must invest in SEO

Positive impact on Social

Media:

a website with higher ranking gain more impact on social media from users too.

SEO and Social Media are directly

proportional

to each other. SEO popularity is good for Social media and vice

versa

. M

ore the like and tweets, more it is found in the first position of search engine results.

Stay

Updated:

Search engine industry

changes

rapidly. The Rules and practices

change

all the times,

and its companies responsibility to stay updated for its benefit only, by not missing any opportunities.

Business

Competition:

Meeting challenges thrown by business rivalry may cause you in trouble for you and business too. I

f your

competitors

are doing well with SEO and Social Media

Marketing

then you should too! and if they

aren't

you are already a step ahead.

Good Conversion

rates:

If your websites are more easy to read and navigate are more likely to grab attention from visitors.

So a website

needs

to be SEO optimized

one

so that it makes easier for the

user

to display fast on mobile as well as on Pc.

24/7

Business:

A business which is open 24/7 is more likely to gain traffic. It helps to gain new customers!

Cost

Effectiveness:

One of the most

cost-effective marketing

strategies is SEO. It

targets

the user directly who are

looking

for the product and services online.
Thus, SEO is a long-term Marketing strategy, which boosts up your online presence quite easy.

SEO is considered as most cost-effective than paid traffic and helps you to target users and gain more traffic!